4.1 Island Graveyard
On 1842 Map
The graveyard on Scattery is located in the grounds of Teampall na Marbh a ruined church which measures 67 feet long by 18 feet wide and is divided into two sections:
The mainly modern burial ground is situated to the north and west of the church and this contains the graves of those buried in the period from approx 1860 to 2007 AD. These are numbered from 1 to 43 and are mainly upright vertical headstones and primarily mark the graves of the families and their descendants that settled on the island in 1840s. It would seem that the island did not suffer any deaths during the famine as the earliest recorded inscription is for Mary Scanlan who died aged 18 on the 17th July 1861 and is buried in grave number 28.

The older burial ground located within the church numbered 96 to 131 and to the south and east of the church numbered 44 to 95 contains graves mainly of people who did not live on the island but desired to be buried on holy ground. These are usually flat horizontal flagstones or tombstones but also include five vaults. (No 32, 34, 58, 82 and 95).
A wall was constructed around the graveyard as detailed in the Kilrush Herald 1879 Thursday 7th & 14th August:

The Board of Guardians of the Kilrush Union as a Burial Board will on Saturday the 16th August next receive and consider proposals for the erection of a stone wall at Burial grounds of Shanakyle and Scattery Island. The work to be executed in accordance with a specification to be seen at my office and security required for the due performance of the contract within a limited time.
By order: A Warren, Clerk of Burial Board, and 2nd August 1879.

Graveyard north of the Church
The graves that have complete inscriptions are detailed below without any notation and those with some minor detail either missing or that have some part of the inscription that is indecipherable are noted with a question mark. It was not be possible in some instances to obtain all the missing details due to erosion or without causing damage to the stones. Some obvious graves that have neither a headstone nor a tombstone are designated as "unknown" as are those with stones that have no apparent inscriptions. Unfortunately there are fifty two that have to be designated as unknown and the majority of these are located within the ruined church and get very little sunlight and even utilising powerful torches and liberal amounts of water are impossible to read or indeed in most instances have no inscriptions at all. An examination of the main database shows that out of a total of the one hundred and thirty three native inhabitants in 1871 only eighteen or 13% are noted on memorial inscriptions. One obvious missing name from the families is Hanrahan, which family lived on the island for almost one hundred years and yet have no gravestone inscription. As there are only 133 (including 76a and 112a) obvious graves here it was decided to take the inscriptions from all available stones even though a small number of these are of former inhabitants who have been buried here in the last forty years. The actual inscriptions are in alphabetical order together with the grave number as shown on the plan of the graveyard. The following is a full list of the known names buried there together with their number of graves ( ) and the earliest date on their gravestone:
Behan (1) 1845, Brennan (6) 1862, Brew (1) 1830, Callinan (1) 1922 ,Conway (1) 1846, Comyn (3) 1832, Culligan (1) ?, Cusack (4) 1854, Griffin (2) 1895,Grogan (3) 1822, Hannan (1) 1875, Hanly (1)1816, Harris (1)1900, Hassette (2)1837, Hehir (2)1815, Kennelly (1)1863, Lillis (2)1811, Lynch (1) 1835, McAllen (1) 1911, McMahon (5) 1885, MacMahon (1) 1840, Mahony (7) 1830, Martin (1) 1873, Meagher (1) 1876, Melican (6) 1894, Moloney (1) 1837, Moran (5) 1805, Nolan (2) 1819, O'Donnell (1) 1840, O'Neill (3) 1821, Rochford (1) 1821, Ryan (1) 1811, Scanlan (9) 1837, Spenser (2) 1819, Tierney (1) 1881.
Commentary of some of the Memorial Inscriptions
The main families, except the Hanrahans, that settled on the island in 1840s: Brennans, McMahons, Griffins, Melicans and Scanlans have the greatest number of gravestones. In addition the two Moran families (five graves) and Hehir families with two were on the island before 1840. The following have the location of Kilrush or townlands nearby inscribed on the gravestone and number 112a Meagher has Bathurst Australia on the only erect headstone within the church walls:
Tierney (No 11 Kilrush), Callinan (No 22 Kilrush), Comyn (No 32 Kilrush Vault), Culligan (No 33 Ballynote), McMahon (No 44 Leadmore), Martin (No 45 Cappa), O'Neil (No 46 Kilrush), Hanly (No 50 Kilrush), Conway (No 51 Kilrush), Nolan (No 61 Ballyket), Mahony (No 68 Kilrush), Lillis (No 77 Gower), MacMahon (No 82 Kilrush Vault), Meagher (No 112a Bathurst, Australia).
The inscription on grave number 77 (Lillis) includes the narrative "who lived respected and died regretted" an inscription perhaps all should aspire to achieve. A manuscript (MS 16415) in the National Library of Ireland for a John Comyn Kilrush dated June 7th 1845 contained only poems and witty newspaper cuttings from the first half of the nineteenth century and were not in any way related to James Comyn (Vault/Grave No 32). However this may be the same John Comyn who erected the gravestone on grave number 89 for his daughter Bridget who died in 1854. An old photograph c 1890 revealed more details than are currently on the stone of vault number 32 and those details are included in the memorial inscription. It would appear that the old polished stone was turned around when it was fully inscribed and the now unpolished side was used for the later inscriptions.
In addition the following vaults were probably constructed by wealthy Kilrush families:
John Grogan (No 34 Vault) Michael Hassett (No 58 Vault) Edmond Mahony (No 95 Vault). An examination of TAB's index for Kilrush[67] shows a John Grogan, three Michael Hassetts and three Edmond Mahonys as residing in Kilrush or nearby townlands. An examination of Griffith's[68] index shows that there were three John Grogans, two Michael Hassetts and no Edmond Mahony resident in Kilrush in 1855. Gravestones for Scanlan (No 6) Brennan (No15) McMahon (Nos 16 & 31) Melican (No 19) and Moran (No 42) have "Died" or "Lost at Sea" noted on the inscription.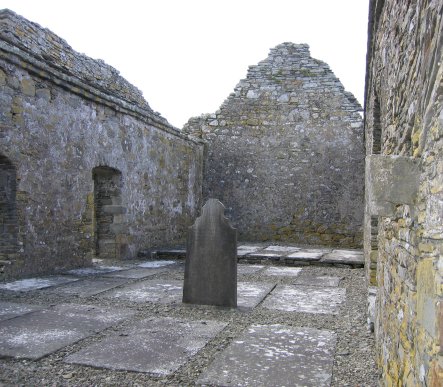 Inside Graveyard Church looking west
Uninscribed Graves
| | |
| --- | --- |
| Name | Details |
| Bridget Brennan | Died c1930 |
| Margaret Brennan | Married 16/10/1858 |
| Mary Faul | Died c 1890 |
| Mary Griffin | Died c 1890 |
| Honor Hanrahan | Died c 1890 |
| Johanna Hanrahan | Died c 1913 |
| Mary Hanrahan | Died c 1930 |
| Darby Hehir | Died c 1860 |
| Jeremiah Hehir | Died c 1890 |
| Jeremiah McCarthy | Died c 1890 |
| Patrick McCarthy | Died c 1905 |
| Michael McMahon | Died c 1930 |
| Catherine Melican | Died c 1895 |
| Tom Moran | Died c 1915 |
| Michael Scanlan | Died 26/03/1890 |
| Patrick Scanlan | Died 19/06/1946 |
| Patrick Brennan | Married 16/10/1858 |
| John Faul | Died c 1890 |
| Michael Griffin | Died c 1890 |
| Michael Hanrahan | Died c 1890 |
| Stephen Hanrahan | Died c 1913 |
| Thomas Hanrahan | Died c 1930 |
| Jeremiah Hehir | Died c 1840 |
| Biddy Hehir | Died c 1860 |
| Mary Hehir | Died c 1890 |
| Ellen McCarthy | Died c 1890 |
| Mary McCarthy | Died c 1905 |
| David Melican | Died c 1895 |
| John Moran | Died c 1840 |
| Mary Moran | Died c 1915 |
| Johanna Scanlan | Died 17/10/1887 |
| Honor Scanlan | Died 23/02/1942 |
The thirty two inhabitants listed opposite are known to have
died and are buried on the island but there are no inscriptions
on any apparent gravestones to mark their passing.
Table 9: Deceased islanders not recorded in Graveyard
Origins of some non native surnames buried on the island[69]
Callinan: Ó Callanáin. The main sept was a medical family to the McCarthy's, another of the name was an erenagh family in Co. Galway. (Grave number 22 deceased, a doctor, lived and died in Kilrush)
Comyn: The name of a Norman-Irish family which is also used in Co. Clare as an anglicized form of Ó Cuimin. (Vault number 32 family lived in Kilrush)
Conway: This is used as the anglicized form of several Gaelic-Irish surnames, the most important being Mac Connmhaigh (Thomond), Mac Conmidhe (Tyrone), Ó Conbhuidhe (Co. Sligo) and Ó Connmhacháin (Co. Mayo). (Grave number 51 deceased was a former member of the Kilrush Christian Doctrine Society)
Culligan: Ó Cuileagáin or Quilligan this Thomond name which is possibly an attenuated form of Colgan is equally well known in its variant form Culligan. (Grave number 33 this family lived in Ballynote near Kilrush)
Hanly: Ó hÁinle. An important Connacht sept a branch migrated to Co Cork. (Grave number 50 the deceased lived in Kilrush)
Lillis: A variant in Cos. Clare and Limerick of Lawless. (Grave number 77 the deceased lived in Gower near Kilrush)
Martin: This is one of the most numerous surnames in Ireland, one family of Martins are included in the fourteen Tribes of Galway having come to Ireland at the time of the Anglo-Norman invasion. The name is also used as an abbreviation of Gilmartin. (Grave number 45 this family lived in Cappa nearest village to Scattery located close to Kilrush)
Meagher: Ó Meachair. This sept were not driven from their homeland in Offaly and Tipperary after the Anglo-Norman invasion (Grave number 112a deceased son lived in Bathurst in Australia)
Nolan: Ó Nualláin. The chief of this sept was known as Prince of Foherta, the barony of Forth in the present county of Carlow where the name is still very numerous. (Grave number 61 the deceased lived in Ballykett near Kilrush)
O'Neil: Ó Néill. In addition to the famous O'Neills of Ulster there were septs of the name in Thomond, Decies (Co. Waterford) and Carlow. The name is numerous throughout Ireland especially in Tyrone and Antrim. (Grave number 46 the deceased lived in Kilrush)
Tierney: Ó Tighearnaigh. There were three septs of this name, in Donegal, Mayo and Westmeath but these are now scattered. It is much confused with Kiernan in Mayo. (Grave number 11 the deceased was a Christian Brother in Kilrush).
Memorial Inscriptions
1865 Monday 11th September (Clare Journal)
Scattery Island. Last week the Bishops of Kerry and of Limerick Right Rev Dr Moriarty and Butler visited the historic and picturesque island of Scattery. Their Lordships were accompanied from Kilkee by the Very Rev Dr O'Brien, Dean of Limerick, Dr O'Shea VG of Rathkeale and Rev J Malone. It is said that they deciphered several inscriptions on tombstones that were deemed almost illegible heretofore. In the evening their Lordships were most hospitably entertained by the Very Rev Dr Kelly VG and PP (Kilrush Gazette).
(Their Lordships do not appear to have published any of these inscriptions.)

A Plan of Scattery Graveyard is given in the next section and should be used with the following memorial inscriptions.
Name Grave Memorial Inscription
Name
Grave
Memorial Inscription
BEHAN
57
IHS, Erected by Pat Behan in memory of his mother Mary Behan alias Griffin who died March 16th 1845 aged 78 years. May her soul RIP amen.
BRENNAN
14
Erected by Bridget Brennan Scattery in loving memory of her beloved husband Patrick Brennan who died April 10th 1927 aged 74 years. Sweet Jesus have mercy on his soul.
BRENNAN
15
In loving memory of John (Jack) Brennan died 24th Oct 1958 aged 72 his wife Maria died 11th Oct 1945 aged 56. Their son Gerard died at sea also Felix and Kathleen. RIP.
BRENNAN
35
IHS, Here lie the remains of Patrick Brennan of Scattery who died May the 28th 1863 aged 77 years also his beloved wife Ellen Brennan alias Melican who died September the 24th 1862 aged 79 years. May their souls RIP amen.
BRENNAN
36
IHS, Erected by Felix Brennan of Scattery in memory of his beloved son Sinon Brennan who died April 26th 1876 aged 19 years also his brother John Brennan who died December 11th 1881 aged 13 years RIP amen.
BRENNAN
39
In loving memory of Edmond Brennan of the Dublin Metropolitan Police who died 1st May 1900 aged 27 years.
BRENNAN
40
Erected by Patrick Brennan of Scattery in memory of his beloved son Michael Brennan who died November the? 1880 aged 19 years may he rest in peace.
BREW
121
Here lies the remains of Bridget Brew who depd this life January 2nd 1850 aged 32 years. Erected by her father John Comyn for him and posterity may her soul rest in peace.
CALLINAN
22
In loving memory of my dear husband John Joseph Callinan MD who died at Kilrush 16th April 1922 aged 57.
COMYN (vault)
32
Erected by Mrs James Comyn Kilrush in memory of her husband who died 14th May 82 also children John died August 7th 1843,Michael died February ??, Kate died October ??,Mary Anne died March ??,James died February ??,Susan Slattery alias Comyn may they rest in peace.
COMYN
122
Erected by John Comyn in memory of his mother Margaret Comyn alias McMahon who died May 2nd 1832 aged 74 years, also his father John Comyn of Ballynote who died December 8th 1844 aged 98 years may his soul rest in peace amen.
COMYN
89
Erected by John Comyn in memory of his beloved daughter Bridget Comyn who departed this life October 21st 1854 aged 13 years may her soul RIP?
CONWAY
51
IHS, Erected by the Kilrush Christian Doctrine Society as a testimonial of respect to their beloved member Michael Conway who died April 27th 1846 aged 26 years may he RIP amen.
CULLIGAN
33
Sacred to the memory of Sinon Culligan, Ballynote, who departed this life 7th Augt. 1845, aged 60 years, and Mary his wife who died 7th Feby. 1873, aged 66 years. Timothy Culligan died March 26th 1912 aged 78. Bridget Culligan died April 11th 1920 aged 86. Requiescant in pace.
CUSACK
84
Erected by John Cusack in memory of his father Thomas Cusack who died September 22nd 1854 aged 59 years also his mother Susan Cusack alias Moran who died August 17th 1859 aged 55 years.
CUSACK
125
This tomb was erected by John Cusack in memory of his beloved son Patrick Cusack who depd this life January 20th 1832 aged 29 years may his soul rest in peace.
CUSACK
115
This tomb was erected by Mary Cusack alias Boland in memory of her beloved husband Michael Cusack who died January 20th 1862 aged 48 years may his soul rest in peace.
CUSACK
128
This tomb was erected by Michael Cusack in memory of his father who died and his brother who died in 1819.
GRIFFIN
1
Erected by Hanna Griffin in memory of her husband Sinon Griffin died 1895 aged 49 years(son) Michael died Feb 28th 1918 aged 49 years, Mrs Mary Griffin died Nov 16th 1918 aged 45 years her son Patrick died Nov 17th 1918 aged 15 years. RIP.
GRIFFIN
2
In loving memory of Michael Griffin Cappa, Kilrush died 5th Feb 1945 aged 47 years, his wife Maria Griffin died 2nd Nov 1984 aged 74 years RIP. Erected by their families.
GROGAN (vault)
34
IHS, Erected by John and Mary Grogan in memory of their beloved children Patrick who died June 1877, John ???? 1879, Maggie April 30 1881, Stephen April 11th 1896.
GROGAN
119
Erected by Stephen Grogan for his daughter Mary who died November 1st 1822 aged 15 RIP.
GROGAN
118
Erected by Stephen Grogan for his son Sinon Grogan who depd this life December 10th 1830 aged 30 years.
HANLY
50
IHS, erected by Daniel Hanly of Kilrush in memory of his father Daniel Hanly who departed this life July 14th 1816, may his soul rest in peace.
HANNAN
70
Erected by Patrick Hannan??Who died October 17th 1875 aged 60 years may he rest in peace amen.
HARRIS
23
Erected by John Harris in memory of his beloved children James, William, James and Patrick also John who died 23rd August 1900 aged 34. May their souls rest in peace.
HASSETT (vault)
58
Michael Hassett (in Irish O'Hassie) died in 1908 aged 98 years may his soul rest in peace. Mrs Mary Hassett who died Dec 31st 1905 aged 76 years.
HASSETTE
94
Erected by Bridget Hassette alias Mahony in memory of beloved husband Michael Hassette January 5th 1837 aged 50.
HEHIR
27
Erected by Jerry Hehir in memory of his daughter Bridget also his brother Michael died Aug 20th 1916 aged 50 years, Jerry Hehir died June 10 1922 aged 72 years, Margaret Hehir died Jan 28 1955 aged 81 years.
HEHIR
63
Here lies the body of Daniel Hehir who died September 8th 1815 aged 36 years may he RIP amen. Erected by his beloved father Jeremiah Hehir for him and posterity.
KENNELLY
80
Erected by Thomas Kennelly in memory of his beloved son Timothy Kennelly who departed life December 13th 1863 aged 22, may his soul RIP.
LILLIS
77
This tomb was erected by Bridget Lillis in memory of her beloved husband Mr James Lillis of Gower who lived respected and died regretted July 30th 1828 aged 47 years, may he RIP amen.
LILLIS
78
This tomb was erected by Mary Lillis alias Culligan in memory of her beloved husband Mr Paul Lillis who died April 13th 1811 aged 63 years, may he RIP amen.
LYNCH
49
Here lie the remains of Miss Ellen Lynch alias Sul-vn who departed this life 24th December 1835 aged 55 years and also her husband Thomas Lynch died August 1850 their son Michael Oct 1887.
MacMAHON (vault)
82
Of your charity pray for the souls of the faithful departed buried in this vault may they RIP amen. Erected by Mr James MacMahon and family Kilrush. (1840 date on Vault)
MAHONY
108
Erected by Michael Mahony in memory of his father David Mahony who depd this life March 6th 1837 aged 78 years may his soul rest in peace amen.
MAHONY
68
Erected by Mr Denis Behan in memory of his beloved uncle Edmond Mahony of Kilrush who died February 21st 1840.
MAHONY (vault)
95
IHS, this vault was built by Mr Edmund Mahony in memory of his mother Mrs Catherine Mahony alias Stacpoole who died December 16th AD 1830 aged 50 years RIP amen.
MAHONY
97
This monument was erected by Mary Mahony in memory of her beloved mother Bridget Mahony who departed this life August 29th 1856 aged 57 years may her soul RIP.
MAHONY
98
This tomb was erected by Patt Mahony in memory of his beloved brother Martin Mahony the mate of the Brig Agnes Timothy O'Gorman master who departed this life the 1st of November 1830 aged 29 years, may he RIP amen.
MAHONY
103
Erected by Mary Mahony alias Brown in memory of her beloved husband Michael O'Mahony who died March 4th 1843 aged 66 years, may he RIP amen.
MAHONY
106
Erected by Michael Mahony in memory of his father Nicholas Mahony who depd this life 27th February 1837 aged 73 years.
MARTIN
45
Erected by Bridget Martin in memory of her beloved husband John Martin Cappa, who died March 2nd 1873 aged 80, may he in posterity RIP amen. Bridget Martin, daughter Bridget, Catherine Walsh, James Walsh RNVR.
McALLEN
43
Erected by Margaret McAllen in memory of her late husband Robert McAllen who died June 4th 1911 aged 48 years.
McMAHON
16
In memory of Mary Theresa McMahon died 30th June 1937 aged 14 years, Michael lost at sea 1940, parents Sinon McMahon died May 1973 his wife Nora died 15th Sept 1985.
McMAHON
30
In loving memory of the sons of the late Austin and Bridget McMahon Scattery, Michael died 19 June 1975 aged 66 years, Austin (Bobby) died 13 Jan 1979 aged 55 years RIP.
McMAHON
31
In loving memory of Austin McMahon Scattery Island died 4th Dec 1953 aged 73 years, his mother Bridget McMahon died 23rd Nov 1925 aged 74 years, his son Stephen died at sea 22nd Oct 1940 aged 29 years also Christina Alice and Anthony who died young his wife Bridget died 16th Sept 1966 RIP. Erected by his wife Bridget.
McMAHON
44
IHS sacred to the memory of Michael McMahon of Leadmore who died Sept 16th 1851 aged 72 yrs also his wife Johana McMahon alias Grogan who died Sept 17th 1856 aged 60 erected by their daughters Margaret and Johana McMahon.
McMAHON
76A
Erected by Michael McMahon Scattery Island in loving memory of his father Austin McMahon who died April 5th 1885 aged 83 years also his mother Mary McMahon who died August 11th 1879 aged 70 years.
MEAGHER
112A
Erected by John Meagher Bathurst Australia to the memory of his beloved mother Kate Meagher alias Mahony who died 11th August 1876 aged 75 years.
MELICAN
19
Erected by Christenia Melican in loving memory of her husband John Melican who departed this life November 21st 1913 aged 31 years. May he rest in peace. Christine Melican died 16th October 1931, sons Peter (lost at Sea) 12 April 1943, and Michael died 29th February 1965.
MELICAN
20
Sacred heart of Jesus have mercy on the souls of John Melican who died 22nd April 1924 aged 37 years and his wife Catherine who died 14th Dec 1954 aged 64 years, their daughter Anne died 26th March 1999. May they rest in peace. Erected by their loving family RIP.
MELICAN
21
In loving memory of Michael Melican Scattery Island son of the late John and Catherine Melican died 20 July 1979 aged 57 years RIP.
MELICAN
24
Erected by John Melican in memory of his father Michael Melican who died February 20th 1897 aged 47, also his mother Brid Melican who died February 20th 1897 aged 37 years and his brother Michael died February 20th 1897 aged 17 years. May the Lord have mercy on their souls.
MELICAN
25
Erected by Michael Melican in memory of his beloved parents John Melican February 18th 1894 aged 86 years, Bridget Melican alias Brennan November 9th 93 aged 73. May they RIP amen.
MELICAN
26
Erected by Johanna Melican in loving memory of her husband John Melican died Oct 18th 1920 aged 65 years, also her son Stephen.
MOLONEY
129
Erected by Catherine Minetor alias Moloney in memory of her beloved husband Pat Moloney who depd this life March 8th 1837 aged 48 years. Death takes the good, too good in faith to stay and leaves the bad for God to take away.
MORAN
5
In loving memory of Thomas Moran died 23rd Aug 1957 his wife Nora died 12th May 1957, also their sons Patrick, John, Thomas and daughter Mary RIP. Erected by Alice.
MORAN
10
In loving memory of John Moran died 15 May1955 his wife Kate died 25 May 1955. RIP. Erected by their daughter Delia Scanlan.
MORAN
38
Erected by Patrick Moran in memory of his wife Margaret Moran who died February 2nd 1905 aged 63 years. May her soul RIP.
MORAN
42
In memory of Sinon Moran Cappa died at sea Oct 6th 1914 aged 37 years, his wife Anne died Dec 23rd 1954 aged 72.
MORAN
79
Here lies the remains of Catherine Moran alias Carberry who closed her mortal career February 1st 1805 aged 34 years; also her beloved husband T Moran September 25th 1821 aged 52. Erected by their son Pat Moran.
NOLAN
54
Erected by Anthony Nolan senr for his beloved wife Mary Nolan alias Brew who departed this life April 26th 1822 aged 68 years.
NOLAN
61
This tomb was erected by Anthony Nolan, Ballykett, in memory of his son Patrick Nolan who died September 26th 1819. May he RIP,
O'DONNELL
60
Erected by Captain P O'Donnell in memory of his beloved father John O'Donnell who died September 21st 1840 aged 60 years. May he RIP amen.
O'NEIL
17
Erected by her beloved parents in memory of Minnie Agnes O'Neil died 4th Jan 1884 aged 9 years.
O'NEIL
46
Erected by Mary O'Neil in memory of her beloved husband Patrick O'Neil of Kilrush who died on 5th day of November 1836 aged 45. May his soul RIP amen.
0'NEIL
47
Erected in the memory of Mary O'Neil alias Foarhan by her affectionate brother Batt Foarhan .She died in 36th year of her age August 4th 1821 RIP amen.
ROCHFORD
96
Erected by Edward Rochford in memory of his beloved father John Rochford November 22nd 1821 aged 60.
RYAN
48
This tomb was erected by Mary Ryan in memory of her beloved husband. George Ryan who departed this life March 15 1811 aged?
SCANLAN
102
Erected by Alisha Scanlan in memory of her mother Mary Scanlan alias Lynch who depd this life 30th December 1837 aged 70 years may her soul rest in peace amen.
SCANLAN
3
In loving memory of Michael Scanlan died 11th April 1941 his wife Ellen died 25th May 1960, RIP.
SCANLAN
4
In loving memory of Patrick Scanlan, Ennis Rd Kilrush, died 1 Oct 1973, RIP, erected by Pauline and family.
SCANLAN
6
Erected by Patrick Scanlan, Scattery Island, in memory of his son Sinon Scanlan who died at sea Oct 1925 aged 39 years, also his son John Scanlan who died young.
SCANLAN
7
Erected by Michael Scanlan,Scattery Island,in loving memory of his son Sinon who died July 21st 1925 aged 11 years also his parents Ellen Scanlan who died December 28th 1935 aged 82 years and Sinon Scanlan who died 28th March 1935 aged 82 years. Sweet Jesus have mercy on their souls.
SCANLAN
8
In loving memory of Michael Scanlan, Scattery Island who died July 9 1959 aged 79 years his wife Maria who died Dec 30 1974 aged 82 years. RIP erected by his wife Maria. (Additional stone on grave states "Cherished memories of our beloved grandmother Maria Scanlan who died 30 Dec 1973(?) aged 82 years loved and remembered RIP)
SCANLAN
9
In loving memory of Patrick Scanlan who died 9th Sept 1962.
SCANLAN
18
Erected by Sinon Scanlan in memory of his son Sinon died June 12th 1925 aged 38 years also his daughter Agnes.
SCANLAN
28
Erected by Michael Scanlan of Scattery in memory of his beloved daughter Mary Scanlan who died July 17th 1861 aged 18 years. May the Lord have mercy on her soul.
SPENCER
59
This tomb was erected by Mr John Spencer in memory of his two beloved daughters viz. Johanna who departed this life September 28th 1819 aged 7 years also Bridget who departed this life December 22nd 1819 aged 17 years. May they RIP.
SPENCER
53
IHS Erected by Ino Spencer chief mate of the Valdelure cutter over the remains of his daughter Johana Spencer who died Sept 26th 1819 aged 2 years.
TIERNEY
11
Brother Stephen Peter Tierney (in Irish). "An Br Peadar Ó Tiarna An Mainistir Cill Ruis Béas 27 Meán-Fómhair 1881, 34 Bliana ab aois do. RIP."
UNKNOWN
12,13,29,37,41,52,53,55,56,62,64,65,66,67,69,71,72,73,74,75,76,81,
83,85,86,87,88,90,91,92,93,99,100,101,104,105,107,109,110,111,
112,113,114,116,117,120,123, 124,126,127,130,131
Table 10: Memorial Inscriptions in Scattery Island Graveyard