July 1921 – May 1923 Truce, Treaty and Civil War

At the Truce the Volunteers handed up their rifles for safe storage in the Battalion area. Some would see and use them again, others would not. Many of these comrades in the 4th Battalion, Mid Clare Brigade, who had fought in such raids and attacks as Connolly, Rineen, Monreal, Miltown Malbay and Moananagh during the fight for freedom would not fight side by side again. At the time of the truce, 11th July 1921, Séamus commanded a Battalion comprising nine companies with strength of almost 450 Volunteers, 35 of whom -including Séamus and his comrades Steve Gallagher and Anthony Malone - were fully engaged and active in the 4th Battalion's flying column.[77]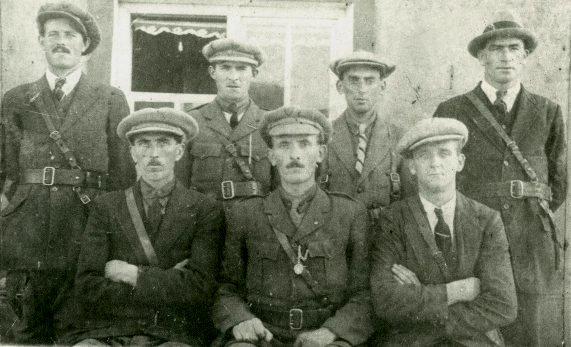 Officers Mid-Clare Brigade. Kilfenora Training Camp November 1921
Back Row: Andy O'Donoghue O/C 5th Battn, Seán MacNamara O/C 6th Battn, J J Clohessy Brigade Adjutant, Séamus Hennessy O/C 4th Battn.
Front Row: Frank Barrett Brigade Commandant, Peadar O'Loughlin Brigade Vice-Commandant, Lexie O'Neill Brigade Police Officer.
From 30th November 1921 the 4th Battalion attended an I.R.A. training camp which took place in Kilfenora. Previously between 11th and 26th of August, Séamus had attended an officers' Divisional training camp in Scariff. Negotiations in London had been ongoing and the camps were held in order to keep Volunteers motivated and sharp. Officers did not want the men to become too relaxed during the Truce in the event talks broke down and hostilities had to resume. It also gave the Volunteers an opportunity to reorganise. As well as the 4th Battalion the Kilfenora camp also contained the 5th and 6th Battalions of the Mid Clare Brigade, while the 1st, 2nd and 3rd Battalions held a corresponding camp at Kilnamona. With a high level of discipline maintained throughout the camp the Volunteers were further trained in the use of arms and in guerrilla war tactics. The Truce was marked by numerous open military displays. The Volunteers, now recognised as an army, could openly drill in relative safety from Crown Forces, previously not possible under martial law. On the afternoon of the 30th November, after reviewing the camp in Kilnamona, the Kilfenora camp was visited and Volunteers inspected by President Éamon De Valera, Richard Mulcahy Chief of Staff I.R.A. and Cathal Brugha Minister for Defence. 'Again the scene was one to catch the eye. After he had reviewed the battalions, President de Valera told them, "The one thing that distinguishes a disciplined body from a mob, is unity of action. A disciplined body acts in unison and becomes the instrument of the will of the commander, whether as commander of company, battalion or brigade. A time of stress may be before us, but we are better prepared to meet it now than we were four years ago." All that was necessary for them to know was the cause for which they were fighting was just, continued the President. That cause was that for which men and women throughout all history had been ready to die – the cause of freedom, the cause of their own land. They were now at a time of crisis and trail. Now their determination was to be put to the test. He, for one, was glad that he had come to Clare, because it showed him they were as firm now as they were four years ago and were prepared to suffer again if they were called on to do so. Four years ago they knew what they were doing. With their eyes open they had entered on the course they had taken and they were not now going to depart from it.'[78] A week later the Treaty was signed in London.



4th Battalion on parade. Mid-Clare Brigade Training Camp Kilfenora
November 1921
Commandant Séamus Hennessy is the Officer standing to the right.
During the Truce period, in the lead up to hostilities, Séamus was ordered to other duties away from his Battalion area. In January 1922 Séamus attended an I.R.A. Divisional officers' special training camp at the Ordnance Survey, College Road, Ennis. On 1st February 1922 he was back with his battalion and present at the taking over of Ennistymon and Miltown Malbay R.I.C. barracks from departing Crown forces officers. Terms of the Truce were seriously breached when two mills bombs were thrown by constables from the upper floor of Ennistymon barracks into a crowd of jeering children from the local Christian Brothers School. 'Up the I.R.A.' and 'Up Rineen' they shouted as they were aware the I.R.A. was taking over from the Black and Tans. Fortunately no one was killed but there were a number of serious causalities amongst the children and passing adults. As the evacuation continued the bitterness of the Crown forces was highlighted as volleys of shots were fired at I.R.A. Officers from the courthouse just missing their intended targets. That evening battalion officers decided to seek revenge for the events of the day. Now well armed, they took a position and lay in ambush on a hillside by the railway station on the edge of town waiting for the departing Crown forces as they drove to Ennis. However when the military vehicles pulled out they took a right turn and took the long route to Ennis. Whether they expected what was waiting for them on the Ennis Road is unknown but further bloodshed was avoided as the Column withdrew to the town.[79]

On 6th February Séamus was ordered to Renmore Barracks for the takeover of the former regimental H.Q. of the Connaught Rangers. This was part of a policy of sending Clare Volunteers to occupy positions in Galway and vice versa. On his return on 15th February he was appointed O/C of the Ennis group of barracks which had been taken control of by Anti-Treaty forces. This group included the former Ennis, Clarecastle and Ballinacally R.I.C. barracks.[80] Seán Burke recalls: 'The British forces had been moving out steadily for months past. The Battalion staff in general had taken possession of the workhouse. A couple of meetings had been held. It was from here the men were selected to do duty at the premier barracks in the county, then known as Ennis No. 1, under the command of Séamus Hennessy.'[81]

In the spring as the country split on the Treaty and slid into Civil War Séamus remained on the Republican side. At the commencement of the war in July he was ordered by Brigade O/C Frank Barrett to evacuate the Anti-Treaty forces from Ennis barracks as it came under threat by the Free State army who had taken positions opposite across the Fergus River.[82]

Commandant Séamus Hennessy 15th August 1922

Séamus returned to his battalion and reorganised those who remained loyal. In one attempted ambush in his former Moy Company area he led an attack on some of his former comrades now in the Free State army: '… just as the car came on to the trench, Ignatius O'Neill came off the car, so any of them did not fire, as I will tell you the truth they find it hard to fire on Ignatius or Tosser ( John Joe Neylon').[83] There was also some confusion concerning loyalties: 'The Free State Battalion Commandant (M. Frawley)…has promised to do all he can for us – he has done a little already in helping to get the fellows desert from the workhouse and bring out some stuff'. He further noted: 'The Company Captains at Miltown and Lahinch are neutral and have refused to take arms or assist the Free State Brigade Commandant.' Two days later, however, he concluded that Frawley was not on their side after all: 'I have only got a report of one Commdt. M Frawley who we thought until yesterday was doing all he could for us.'[84]

A number of Séamus's dispatches to Frank Barrett were later captured by Free State troops. Part of these dispatches gave an insight into life in Miltown Malbay during the conflict.

Miltown Malbay
July 18th '22
To: OC Mid Clare Brigade
From: OC 4th Batt.,
I. Owing to all the disgraceful, outrageous, serious crimes that have been committed in this town & parish & the insecurity of life & property by a certain band of hooligans who do not belong to any political party, I with the V. Commdt. & Captain Glendine have arranged to pick at least six steady good men from the different Coys & have them stationed here in Miltown.
II. These Volunteers are not to take part in military operations but they are to take orders from us & be surely set to our supervision.
III. Rev Fr. Molloy CC, Dr Hillary, & the people of the town are delighted with the idea & are forming a committee to provide food, accommodation etc for those men & they (Committee) will see that they are not to be attacked or interfered with by Free State troops.
IV. I am here in town since yesterday & will get back to the Column on tomorrow (Wed) night...[85]
During the entire period of the Civil war Séamus was 'on the run' from Free State soldiers who had captured and imprisoned a number of his officers. He informs his commanding officer in one dispatch
HQ Moy 4th Batt,
July 24th '22
9.30am
To: OC No 4 Brigade
From: OC 4th Batt.,
I. You must have already heard that three of our best Officers of this Batt. A Malone, Pk Kerin & Steve Gallagher were arrested by the Free State soldiers on yesterday (Sunday) morning.
II. My own house was thoroughly raided also, but I was not there & they found nothing of importance except my Sam Brown belt.[86]
In his application for a Military service pension in 1935 Séamus gave a detailed account of his activities during the Civil War period: 'Evacuated Ennis I.R.A. barracks (By order of Brigade O/C) and demolished Miltown Malbay I.R.A. Barracks July 3rd '22. Returned to Battalion, reorganised Active Service Unit and all other special services. Demolition of all bridges in main roads, railways and enemy lines of communication, July 1922. Captured enemy officer escorted him to Divisional H.Q., July 24th '22. Attended Brigade and Battalion councils regularly – distance often 15 miles, entire journey on foot. Active Service Unit of 4th, 5th and 6th mobilised at Moy National School (4th Battalion area) preparatory to attack on Miltown Free State Barracks. As Miltown was a hostile district and intelligence lacking operation was cancelled by a member of Divisional staff and Divisional engineers, Aug. 6th '22. A.S.U. of 4th, 5th and 6th Battalions lay in ambush for enemy officers near enemy military barracks Ennistymon on night of Aug. 19th 1922. Moy Ambush – one enemy soldier killed and one enemy officer wounded on Aug. 22nd '22. A.S.U. of 4th, 5th and 6th Battalions march openly through 5th Battalion area (Kilfenora and Lisdoonvarna districts) from Aug. 23rd to Aug. 29th '22. Railways and railway bridges demolished and protected by A.S.U Sept. '22. Bomb thrown at enemy officers Miltown Oct. 14th approximately '22. A.S.U. of 2nd and 4th Battalions lay in ambush for return of enemy lorries at Ballyea, Inagh until darkness of night on Dec. 9th 1922. Miltown Barracks sniped Jan. '23. Demolition of Lahinch and Miltown Malbay Railway stations and signal cabins Feb. 15th approx 1923. Inagh and Spanish Point post offices dismantled Feb. 26th 1923. Miltown and Ennistymon enemy barracks sniped March 17th 1923. Enemy raiding party sniped at Moy March 14th '23. Usual activity with A.S.U. to end of period March 31st '23...arranged attack on enemy military, Guards and spies at Ennistymon April 5th approx '23. Enemy I/O shot at Inagh April 6th approx '23. Organised collection in Battn. Area which realised the sum of £100 for prisoners who were interned from battalion area. Organised special prisoners committee. Reorganisation of Volunteers in battalion after "cease fire" order. Company and battalion parades. Regular battalion and brigade council meetings May, June, July and August, Sept. was "on the run" my house continually searched by enemy military.'[87]

Séamus's resourcefulness and initiative meant he was never captured or interned during the entire War of Independence or Civil War periods. In his application he further stated: 'In April 1922 three of the former officers of this Battalion turned over with the enemy forces. Two of these were promoted to high ranks in the National Army and the third was appointed Chief Superintendent of the civic guards. I was then offered a commission in either the army or civic guards if I handed over the I.R.A. Barracks. I refused all these offers. During the Civil War period there was orders issued by the enemy officers that I was to be shot on sight.'[88]