2: In Our Own Dear Land
Learned from Jerome Conole, father of Thomas. Probably incomplete, but well worth including for it's jaunty air and the excellent philosophy expressed in the words of this little-known song. Obviously written at the time of the agitation for Home Rule.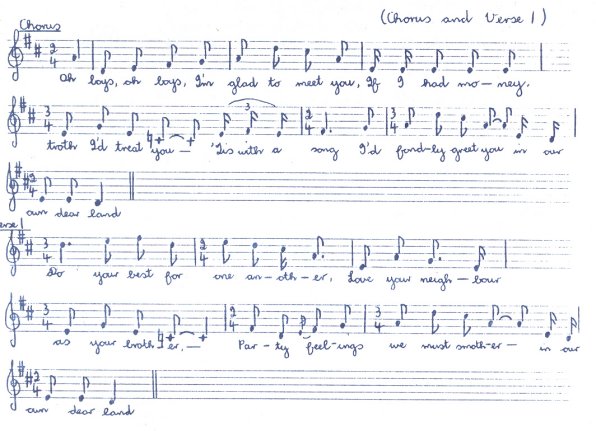 Chorus
Oh boys, oh boys, I'm glad to meet you,
If I had money, troth I'd treat you.
'Tis with a song I'd fondly greet you
In our own dear land.
1
Do your best for one another,
Love your neighbour as your brother,
Party feelings we must smother'
In our own dear land.
Chorus
2
Now in this age of agitation,
Whilst we seek Home Legislation
We're not in the need of separation
To ruin our own dear land.
Chorus
3
The British Commons they must own
- But they have plenty business of their own -
So let us settle ours at home
In our own dear land.
Chorus