5. Nora Daly
Micho picked up this song from the singing of his father, Austin. This is, without a doubt, one of the most popular songs sung in Clare today. It was written by the poet, schoolteacher, and Gaelic scholar, Tomás Ó hAodha (1866 - 1935) of Miltown Malbay. It first appeared in a collection of his poems entitled 'The Hills of Clare', published circa 1922. In common with many singers Micho has compressed the original twelve verses into a more singable seven.
The tune is 'The Stack of Barley'.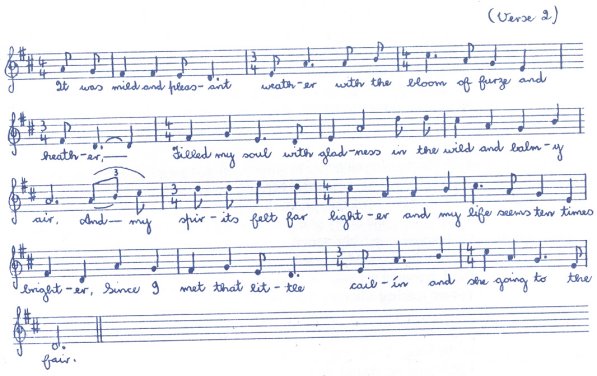 1
It was down near Miltown Malbay,
Not a thousand miles from Galway,
When I was young and merry
In the breezy hills of Clare,
That I spied a cailín comely,
With winsome ways and homely
And she driving in a donkey-cart
And she going to the fair.
2
It was mild and pleasant weather
With the bloom of furze and heather
Filled my soul with gladness
In the wild and balmy air.
And my spirits felt far lighter
And my life seems ten times brighter
Since I met that little cailín
And she going to the fair.
3
Sez she: "I'm Nora Daly
From the parish of Kilmaley,
My father he's a farmer
And the crossest man in Clare!
If he saw you here beside me
I'm afraid that he would chide me.
So, if you please, get down and walk a bit
Before we reach the fair."
4
I reluctantly obeyed her,
For I could not have gainsaid her,
For visions of her father bright
With a fierce and angry glare
Up before me quickly started
So from her I quickly started,
But I treasured her sweet memory
Till we reached Miltown Malbay.
5
At the Four Mile Stone I met her
And within my heart I set her.
I searched for tales and tidings
Of my wanderer everywhere.
Her heart was in a flutter
And she feared her eggs and butter
They'd be scattered on the roadside
And she going to the fair.
6
After years abroad sojourning
And my love still brightly burning,
I sought for her and married her
And settled down in Clare.
And I oftimes yet remind her
Of that day, long left behind her,
When I met her on the donkey-cart
And she going to the fair.
7
I have told my little story,
Though aged now, and hoary,
It makes me feel quite young again
And puts to flight dull care.
And along with what I've told you -
One more secret I'll unfold you:
That you never met more loving hearts
Than those in County Clare!