Click on photograph for a larger view
Dromoland Castle, near Newmarket-on-Fergus, County Clare, now functions as a luxury hotel with its own golf course. The present building was completed in 1835 but the first building constructed here seems to have been a fifteenth or early sixteenth century tower house. There were at least three houses here, at various times, called Dromoland. They were inhabited by eight generations of the O'Brien family. According to the historian James Frost, Dromoland translates as the "Hill of Litigation."
In 1551 Dromoland was listed in the will of Murrough O'Brien. He was first Tanist and in 1543 he had been granted the title of first Earl of Thomond by Henry VIII. Murrough bequeathed Leamaneh Castle to his third son Donough MacMurrough O'Brien. He also gave him the castle and lands at Dromoland. In 1582 Donough was hanged in Limerick on charges of rebellion. It was decided that all his property would be forfeited to the Queen. George Cusack, the sheriff, then took possession of Dromoland. Some years later Turlough O'Brien killed Sir George and various O'Briens attempted to re-possess Dromoland. However, the fourth Earl of Thomond claimed to have sole ownership and tried to exclude Donough's son, Conor MacDonough O'Brien. The outcome of this dispute is unclear but in 1604 when Conor died he left Dromoland to his son, Donough MacConor O'Brien. Donough, whose mother was Slany O'Brien, was only about eight years old at this time. A legal battle ensued between the fourth Earl and Slany O'Brien. The dispute was settled by arbitration in 1613. The Earl, by now Lord Thomond, became owner of Dromoland on payment of £132.13.4. in compensation to Slany O'Brien. However, when Donough was older he refused to accept this agreement. By 1614 a William Starkey was leasing Dromoland from Lord Thomond. By 1628 Lord Thomond was dead and Donough continued the dispute through the Court of Wards and Liveries in Dublin. In 1629 Donough was granted entry "on all the manors, lands and tenements of his late father" on payment of a fine. However, Dromoland was not listed among the many properties named and it rested with the Earls of Thomond for another fifty years, though the fifth Earl did transfer two other properties to Donough as compensation.
Robert Starkey, son of William, was in residence at Dromoland when the rebellion of 1641 began. It seems that he either fled the area or sublet the property because in 1642 Col. Conor O'Brien of Leamaneh, son of Donough and husband of Maire Rua, seized the castle, thereby continuing his fathers claim to Dromoland. Conor was killed in battle in 1651. His eldest son Donough , born to Conor and Maire Rua in 1642, was now heir to Leamaneh Castle and to the family claim on Dromoland.
Robert Starkey resumed the lease and in 1666 Dromoland was sub-leased to Colonel Daniel O'Brien from Carrigaholt. Three years later it was assigned to Thomas Walcott of Moyhill. Finally, in 1684 the freehold was assigned to Donough O'Brien. At this time Dromoland was a modest house. The original tower house seems to have been added onto during Starkey's time there, before Donough moved in from Leamaneh.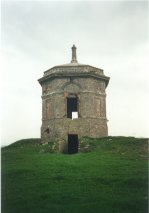 Through the years visitors to Dromoland have written various descriptions of the place. Sir Donough, 1st Baronet, died in 1717. During his time at Dromoland it was described as "a handsome Grecian Building." Donoughs son Lucius also died in 1717 so Edward, son of Lucius, became 2nd Baronet. This first Sir Edward O'Brien decorated the house with pictures and carvings. He also had designs drawn up for a new house. Thomas Roberts and John Aheron both submitted drawings to him for a house and garden at Dromoland. It seems that John Aheron was the architect responsible for the final design. He also designed the Gazebo on Turret Hill, across the road from the main entrance gateway. It was probably built for observing the training of horses. Dromoland was now a ten bay, two and a half storey house. A two-storey quadrangle was completed in 1736. Edward died in 1765. In 1795 an issue of the "Gentleman's Magazine" gave the following description of Dromoland - "the noble and beautiful seat of Sir Lucius O'Brien, Bart., in the county of Clare, situated on a hill gently rising from a lake of twenty four acres in the middle of woods. Three beautiful hills rise above it, commanding fine prospects of the great rivers Fergus and Shannon at their junction, being each of them a league wide."
Sir Lucius O'Brien was the eldest son of the first Sir Edward. Lucius was the 3rd Baronet. He died in 1794. His son, the second Sir Edward, was the 4th Baronet. Edward decided to rebuild the castle. Work began around 1822 and cost about £50,000 to complete. The Pain brothers submitted some classical designs but their neo-gothic designs, influenced by John Nash, were chosen. James and George Pain had been pupils of Nash in England. The building was completed in 1835. Samuel Lewis writing in 1837 says of Dromoland - "a superb edifice in the castellated style, lately erected on the site of the ancient mansion, and surrounded by an extensive and richly wooded demesne, in which great improvements have recently been made". Edward was married to Charlotte Smith and her inherited wealth was probably essential in covering construction costs of their new mansion. Edward and Charlotte were parents of William Smith O'Brien, a leading Young Irelander. Sir Edward died in 1837. His eldest son Lucius was 5th Baronet and 13th Baron Inchiquin.
Burkes "Visitation of Seats", published in 1855 gives the following description of Dromoland - "It is built entirely of dark blue limestone, and in fine chiselled workmanship; the ornamental grounds and woods extend over more than 1,500 acres of land…from some of the eminences there are views of the Shannon and Fergus, which, at this part of the country, resembles a large inland lake with island, making Dromoland one of the most beautiful and desirable residences in Ireland."
Dromoland has been preserved with little change since that time. The mansion is in "baronial" or "gothic revival" style. It has four linked irregular castellated turrets. There is a gothic porch to the north front where the O'Brien arms are displayed. The western portion faces out to the lake, and the east towards the hill where Thomond House now stands. The large walled gardens are to the south. In 1902 the 15th Baron Inchiquin, Lucius, took the old seventeenth century gateway from Leamaneh and erected it at the entrance to this large walled garden. A long curving drive leads from the gateway and classical lodge, passing north of the lake and round to the front door of Dromoland Castle.
In 1962, Donough O'Brien, the sixteenth Baron Inchiquin, sold Dromoland Castle and three hundred and fifty acres because of difficult financial circumstances. He built Thomond House on a hill overlooking Dromoland. He moved in to this Georgian style house in 1965 but died in 1968. It is now occupied by the 18th Baron Inchiquin.
Dromoland Castle was bought by a U.S. citizen, Bernard McDonough. Its vast rooms now serve as a top grade hotel.