Summer Reading Challenge 2011 – Circus Stars
A summertime spectacle of reading has ended for children at Clare's library branches.
Over 500 children from all over the county were presented with certificates, in Shannon, Ennis, Scariff, Ennistymon and Kilrush Libraries at special celebration ceremonies held throughout October for children who completed the Circus Stars Summer Reading Challenge 2011.
The annual summer reading programme attracts readers of all ages every year who sign up at the beginning of July to read six books or more during the holidays. This is a very positive initiative to promote literacy and is run by librarians in every branch in Clare. It is just one of the many exciting schemes public libraries have developed to encourage a love of reading, and to increase confidence in this most important of skill for children.
This year's entertainment in the five presentation centres came courtesy of the multi-talented Tony Baloney, one of Munster's top conjurors, along with his resident assistants Magoufis and Leroy!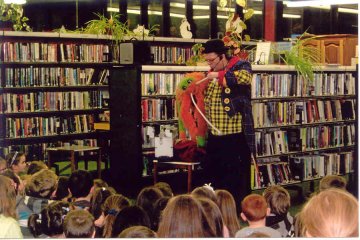 A native of Ennis, Tony Baloney has travelled the world with his hilarious show, which for the library performances included ventriloquism, puppetry, circus skills and storytelling along with lots of magic.
He was especially pleased to be invited to perform in libraries saying:
"As a child the library was one of my favourite places to hang out, and I heard my first proper storyteller in the Ennis branch."
Congratulations to all our young members who completed the 2011 Summer Reading Challenge.